Na semana passada, a Warner Bros. Japan iniciou a transmissão de três novos vídeos para o filme live-action de Blade of The Immortal, que adapta o manga de "neo period drama" da autoria de Hiroaki Samura.
Um deles é um vídeo making of da produção cinematográfia, e o vídeo de personagem antevê o tema musical do filme, "Live to Die Another Day ~Sonzai Shōmei~" (Live to Die Another Day ~Proof of Existence~) pelo guitarrista MIYAVI.
Blade of the Immortal Live Action – Vídeos Teaser e Making Of:
https://www.youtube.com/watch?v=c94oWvrHS8s
Vídeo Personagem de Manji e Rin Character: Versão 'I'll Definitely Protect You'
https://www.youtube.com/watch?v=riyeROyw_NY
https://www.youtube.com/watch?v=jYNDLlSGpeo
O manga segue a jornada de vingança de Manji como o yōjinbō (guarda-costas) de Rin, uma jovem que jura vingança contra um grupo de "lutadores de espadas" que assassinaram os seus pais.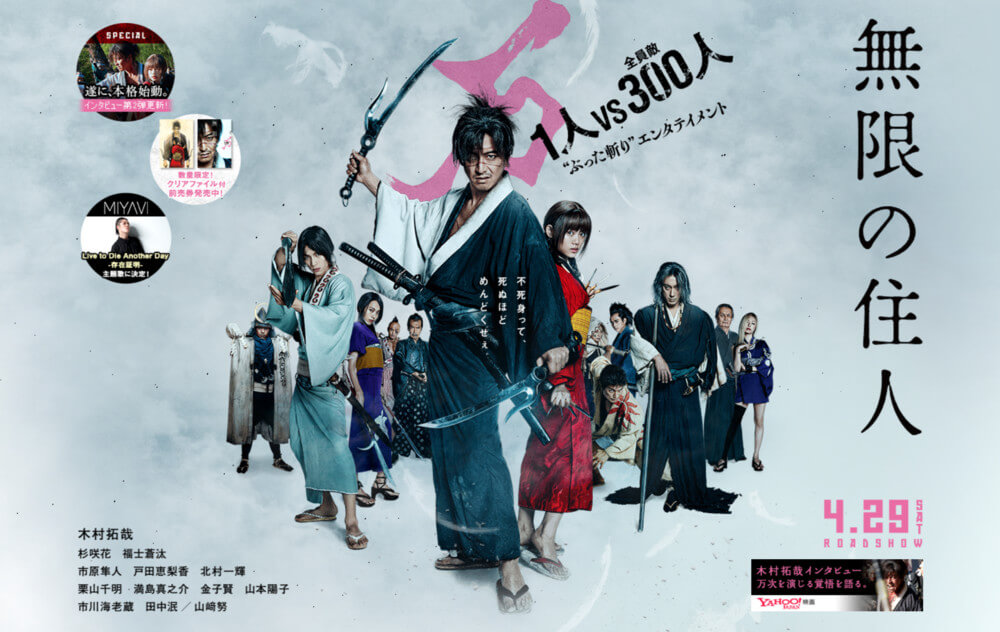 O prolífico realizador,  Takashi Miike (Ichi the Killer, Phoenix Wright: Ace Attorney, Yatterman, As the Gods Will, Crows) está a realizar o filme. As filmagens decorreram em Kyoto em clima extremamente frio, e o climax de Manji r Rin, aqui referido, demorou 15 dias a ser filmado. O filme vai estrear no Japão a 29 de abril.
---
Artigos Relacionados:
Blade of the Immortal Live Action – Trailers de Personagem
Blade of the Immortal Live Action – Yaobikuni encontra Rin em Vídeo
Blade of the Immortal Live Action introduz Manji | Vídeo
Blade of the Immortal Live Action compara Elenco com Manga
Blade of the Immortal Live Action apresenta Trailer
---
Fonte: Anime News Network